Index
Peru 1987

Overview
Previous

Slide
Slide 6
Next

Slide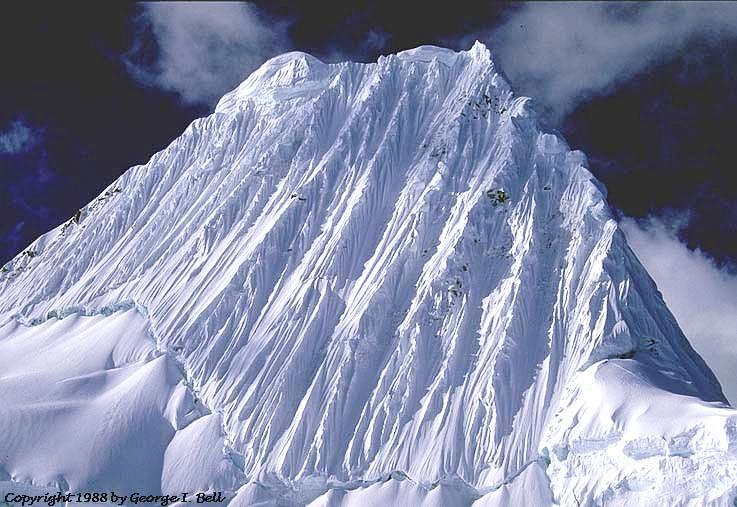 The southwest face of Alpamayo (5947m or 19,600')




Our second aclimitization day we climbed Kiswarraju, a 17,800' primarily rock peak just above base camp. This was a fun scramble to a spectacular summit. The next day we bid Luciano farewell as we packed up to Alpamayo high camp. This is the incredible view from that camp.

The highest point on Alpamayo is the pointy cornice to the far right of the summit ridge. Nobody actually had the nerve to visit the exact summit as it looked very unstable. The standard route on this face is the Ferrari route which goes up the flutings near the left edge, then follows the summit ridge all the way to the right. This route wasn't very popular this season due to a small avalanche near the base, just off to the left of this photo.

Everyone this season was doing the direct route, which follows the couloir that finishes just left of the summit. This route was threatened by a bulbous cornice on the summit ridge about the size of a house, we nicknamed it "the slug". You can see the slug teetering on the knifedge ridge just left of the summit. Fortunately the slug didn't move during our visit.

SIDE TRIP: Click the photo below for an artistic close up view of the face.