Index
Desert Rock

Overview
Previous

Slide
Slide 3
Next

Slide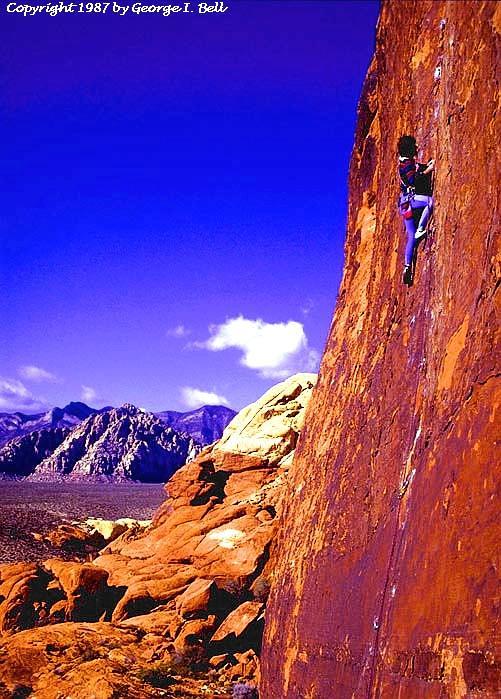 Bob McGown leads Running Man (11a), Red Rocks, NV

In December of 1987 I attended the American Alpine Club Meeting in Las Vegas, and hooked up with some other climbers there. Red Rocks Canyon National Conservation Area, about 20 miles out of Vegas, is filled with spectacular polychrome rock which happens also to be unusually hard, making for some great climbing.

Normally I'm not much into sport climbing, but I always love taking photos in a spectacular spot and this is definitely that. I shot an entire roll on this lead. The color in these rocks is almost unreal, great for Fuji Velvia.

I've been back at least five times to Red Rocks, doing many of the long classic routes: Epinephrine, Black Orpheus, Solar Slab, Crimson Chrysalis, Ginger Cracks, Bridge Mountain's NE Arete and Resolution Arete. These routes are not difficult by today's standards, but the approaches are long, routefinding often a major issue and descents can be epic. Just getting back to the car before dark is quite an accomplishment on many of these routes!