Index
Peru 1987

Overview
To

Index
Slide 1
Next

Slide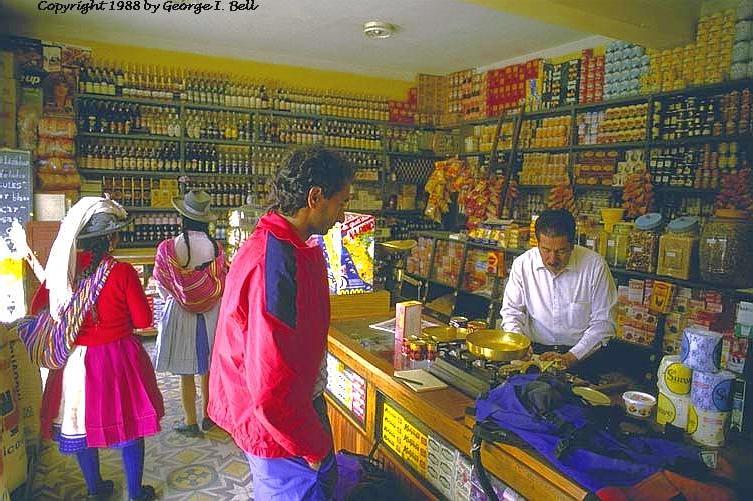 Shopping in Huaraz




I visited Peru's Cordillera Blanca for five weeks in July of 1987. For the first two weeks there were three of us, Haroon Kheshgi, Burt Levy and myself. We flew into Lima and then took an 8 hour bus trip to Huaraz, a beautiful town right at the foot of numerous 6000m peaks. Our first goal was the famous southwest face of Alpamayo (5947m or 19,600'). This peak is far enough from the road that it is easiest to pack your stuff in by burro. We planned for 10 days round trip from Huaraz to allow for aclimitization and climbing 3 peaks.

We bought about 75% of our food in Huaraz, everything but some freeze dried meals we had brought for the summit pushes. Here is Haroon shopping in one of the small markets in Huaraz. The two women leaving the store are dressed in traditional Peruvian style, including the hats. There is no cash register, the owner is meticulously recording our purchases by hand and added it up on an adding machine. This photo was taken without a flash or tripod, about 1/15th of a second braced against a wall.

We also bought a lot of fruit and vegetables from the outdoor markets, the prices were very low. Since the burros would be carrying most of this, we didn't worry about weight. One item we sorely missed was good pasta, the stuff we bought in Huaraz turned to glue in our pots and was practically inedible (this might have been due to the altitude). Meat was also a problem, as we couldn't find any smoked meat and little canned meat, we were concerned that anything else would spoil.