Index
Peru 1987

Overview
Previous

Slide
Slide 8
Next

Slide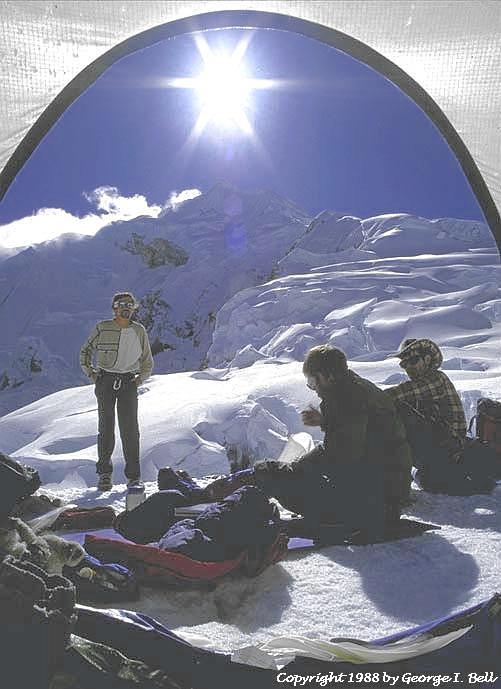 Chopicalqui (6345m, 20,900') from our high camp

After returning to Huaraz we met up with three other friends who had spent the past two weeks on a trek in the Cordillera Huayhuash. We set as our objective Chopicalqui (6345m or 20,900'), one of the highest 5 peaks in the range. Some people suggested Huascaran as it is the highest, but I had seen some beautiful photos of the summit of Chopicalqui taken by Leigh Ortenburger and convinced everyone to go for Chopicalqui. The regular route up Chopicalqui is not difficult, involving glacier travel at altitude.

We took a "taxi" (pick-up truck) to nearly 14,000' and began our ascent. It is not hard to climb Chopicalqui in three days if one is aclimatized. The first day we packed up to our high camp. This photo of the summit was taken out of the tent door (the summit is directly below the sun). Our route from here goes up the glacier, eventually following the right hand skyline ridge.