A rare moment off snow, midway through the traverse.

Alta Via


Skiing the Swiss-Italian
High Route

By George Bell
(gibell@comcast.net)

Trip date: April-May, 1990
Written: August, 1995

[Click on any image
to see it full size]



Skiing Italian corn snow.
According to the popular saying, you can set your watch by the arrival of a Swiss train. Hence my concern waiting in the famous Swiss ski capitol of St. Moritz for a train that is ten minutes late. Having traveled in Switzerland for the past week, we are not used to such tardiness. As each minute passes we imagine the horrible calamity or mechanical failure that is responsible for this blight in the rigid Swiss schedule. Finally Frank asks at the ticket window and receives the simple explanation we had failed to discover: the train originated in Italy - it is always late.
The Bernina-Bergell Massif forms the geographic as well as cultural barrier between Eastern Switzerland and Northern Italy. During our week long traverse of these peaks we would cross the border numerous times, each time noting the shift between the meticulous, staid Swiss and the laid-back, sociable Italians.
I know no Italian, and even less Switzerdeutch. I am fortunate that my companion for this trip is my good friend Frank Robert. As graduate students at Berkeley, Frank and I quickly discovered in each other a common bond of skiing in the California Sierra. We carved our first telemark turns together in corn snow on the slopes of Mt. Whitney, and had graduated to complete the famous Sierra High Route and many other classic Sierra spring trips. Frank eventually moved to Paris, and we immediately planned a spring ski trip in his background telemarking playground.
For my first spring ski trip to the Alps I naturally thought of the Haute Route. However, Frank had done most of the route in pieces and pronounced it beautiful but crowded. Eastern Switzerland, harbors some equally good ski terrain and fewer people. He had read about the Bernina-Bergell traverse from a French ski magazine. The major reason for the lack of popularity of this route is that the hut system is not well situated for a traverse. There are several large gaps which necessitate long days or bivouacs. As a result, the full traverse is rarely done. According to Frank, we might be doing the first traverse in telemark gear.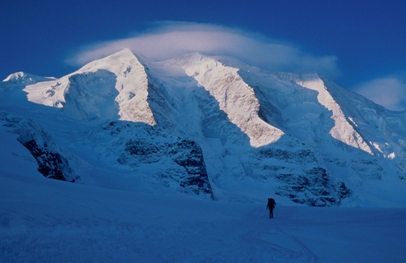 Frank approaching Piz Palu

Our traverse began in late May 1990 from the Swiss resort of St. Moritz. The place was a ghost town as the ski area had recently closed for the season. Still, we found an open ski shop and they were nice enough to loan us use of their ski shop, where Frank installed a pair of "ski knives" or ski crampons to my telemark skis. "This is not the Sierra Nevada" Frank told me "on ice you will need these".

While waiting for the train, I wondered if we had made the right decision to ski this route. Because we would be traveling at least part of the time on glaciers, this necessitated harnesses, a rope, prusiks, and crampons. We also carried avalanche transceivers, "ski knives", snow shovels and minimal overnight gear needed for hut travel. But on top of this was 4 days of food and a stove. Fortunately Frank had planned a route that didn't require a tent but nights in bivouac huts, small tin shacks that provided shelter, but little else. Our bulging packs tipped the scales at over 50 lbs, and I feared such loads would make telemarking the steep, icy slopes of the Alps a nightmare.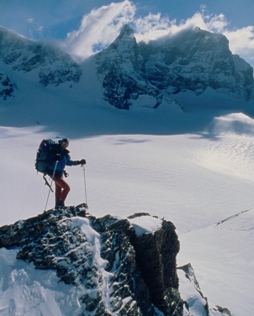 Frank and Crast' Aguzza with Bernina
off the photo to the left.

The train finally arrived and we rode it to a gondola near the Italian border. Riding the teleferique, we were quickly whisked up nearly 1000 m to the modern Diavolezza hut crammed with eager skiers. Huge plate glass windows opened to views of Piz Bernina, the only 4000m peak in the range, as well as the beautifully sculpted lines of Piz Palu, over which we hoped to travel the next day.

The following morning we feasted on eggs and croissant while admiring the sunrise on Piz Palu. Outside the majority of the hut's occupants were already gearing up. We were the only people there with telemark gear, I myself even on double camber skis. Everyone else was using heavy Randonnee (or Alpine Touring) equipment. Frank and I disdained the bulky plastic boots and locked heels, and jokingly referred to such folk as "Rambo Skiers". They were out to bludgeon the snow into submission, while we would lightly caress it with our edges. It sounded good, anyway.

Right out of the hut we discovered what we were in for. The cold night had reduced the south facing slope below the hut to boiler plate ice, the snow equivalent of an oil slick to telemark skis. High speed parallel turns were our only chance of survival under such mighty loads. After an eye-watering descent we were skinning up for the 1000m ascent of Piz Palu.

Europeans have a remarkably casual attitude towards glacier travel. Anyone who has tried skiing down roped up knows it takes all the fun out of it. So most people in the Alps ski down glaciers unroped, I guess with the hope that if they move fast enough they can't fall in a crevasse. When following in a track, many people don't even use a rope on the way up. At least 50 people were now spread out ahead of us. There was one rope team of over a dozen separated by ten feet each. But the majority of the skiers were unroped. Frank knew of my terror of falling in crevasses from trips to Alaska, and kindly volunteered to go first.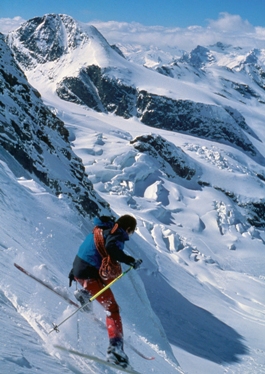 Jump turns descending Piz Gluschaint

Clouds soon moved in to obscure the high peaks and it began to snow lightly. Not a good sign for our planned traverse of the Piz Palu knife edge ridge! We talked about going over an easier pass, but the weather didn't seem to be deteriorating that quickly so we pressed on. On the eastern summit we strapped boards to our packs, donned crampons and put the rope on. When we moved out of a cloud, we obtained dramatic views of the knife edge ridge connecting us to the central peak and over which our route lay. It didn't look too bad if one avoided stepping off a cornice--indeed there was even a trail broken for us, one of whose party members was a dog according to one party we passed! As we moved out on the ridge, I began to have new respect for this canine. I wonder if it was roped in?

The central summit of Piz Palu at just under 4000m turned out to be the highest point on the trip. At this point we left the Rambo day trippers from the Diavolezza Hut and continued across the border into Italy. A steep but short ski descent deposited us on an expansive glacier, where we had just enough visibility to find our way to the Bivo Pansera, our first tiny bivouac hut at nearly 12,000'. It was the size of a camper shell, and somebody had left the window open so it was half full of snow. With a bit of shoveling, it soon was a paradise compared to the shrieking maelstrom developing outside.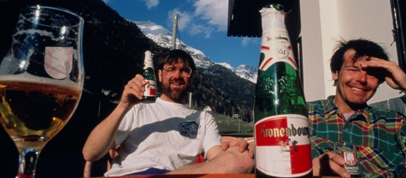 Beer in Chiareggio

It had been a tough day, in fact the toughest of the whole trip, but in Frank I had found a partner that I could count on. Both of us had been skiing since we were 6 years old and were expert alpine skiers. These skills, combined with more recently acquired telemarking technique, allowed us to push our relatively flimsy gear to the limit. Certainly skiing down would have been easier in Alpine Touring gear, but also heavier and therefore slower uphill.

High winds battered our shack all night, and we awoke to light snow and evil gray clouds clinging to the peaks. The classic traverse here involves crossing back into Switzerland to a snowy shelf known as the "Bellavista Traverse" to the base of the summit pyramid of Bernina itself, possibly pausing for an ascent of the peak and then skiing/falling down a steep 45 degree chute into Italy. Considering the weather, this looked like a bad idea. Instead we dropped down into Italy, traversing low to the same point. Looking up at Bernina and the hairy chute below it, we were glad we had chosen this route. As we watched from below a team of two front pointed up the chute roped together!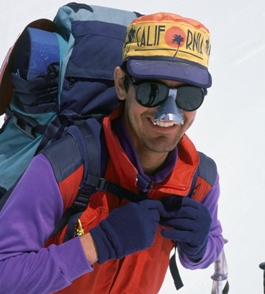 Frank Robert

The next hut was also of the "bivouac" variety, although of 6 rather than 4 man capacity. Shortly after dinner a team of two Germans dragged in, looking with wonder at our happily purring stove. Frank soon discovered that they were extremely thirsty and had not brought any device for melting water. Frank was about to lend them our stove when I pointed out that we had almost used all our gas already and had barely completed a third of our trip. I suggested they try some of the candles in the hut to melt water. An elaborate rigging off the bunks suspended our pot over two candles, but we quickly discovered that it takes a long time to melt water with candles.

The next day we crossed a pass back into Switzerland and crossed a wide Glacier to reach a huge hut. This day was my first opportunity to use my new "ski knives" which were life savers on icy sastrugi. Before we went down to the hut, we decided to dump our loads and climb up Piz Gluschaint.

Our ascent of Piz Gluschaint was an exercise in hazard avoidance. First, we had to cross a crevasse field, and I found myself behind Frank pleading for the rope. Eventually we put it on for a short section of glacier and then entered a steep chute threatened by a huge serac near it's top. It was obvious that major avalanches raked this chute periodically, in fact the debris from the last one was everywhere. Frank and I agreed on the "need for speed", repacked the rope and climbed the chute as quickly as possible, not pausing until we were out of the line of fire.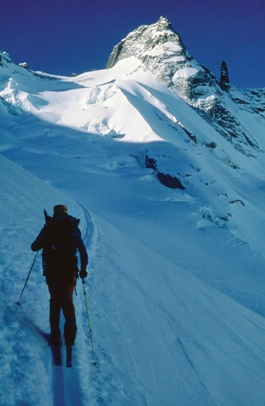 Approaching Mt. Sissone

Finally, we reached the summit ridge, a rocky knife edge covered by several feet of snow. At this point it was Frank who began to balk. We had left one of our ice axes below, not realizing that the ridge would be a problem. I gave the axe to Frank but still the exposure freaked him. He still decided to turn back just a hundred feet from the top; it didn't seem so bad to me.

On the way down we found a party of twelve coming up the couloir. In contrast to our ascent, they were not in any hurry at all, pausing for frequent rests on the debris below the beetling brow of the ice serac. Had we been over cautious or they foolish? Presumably these Swiss knew their mountains better than us, but they seemed oblivious to the hazard, or did they take even longer rest stops normally? We strapped our skis on and Frank completed a dazzling series of jump turns down the couloir as the Swiss gaped at his free heels. I missed the second jump turn and did the rest of the chute on my back, which made an even greater impression on the Rambo crowd.

The Coaz Hut was crowded and noisy, a big change from the past two nights. It was the beginning of a busy three day weekend for the Swiss, but there was room enough for all. Huge plates of spaghetti were dished out and the beer flowed freely as the nearby Piz Roseg was burned a dull pink by the setting sun, prompting frequent photo sprints outside.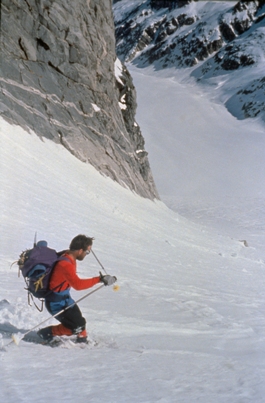 Me skiing corn above the Forno hut

We had now reached the western edge of the Bernina Massif, and we didn't really know how we were going to bridge the gap to the neighboring Bergell Massif. The maps showed a deep valley separating them, and there appeared to be no route which did not drop below snow line. The most obvious route lay over two passes, followed by a drop of nearly 6,000' to the Italian village of Chiareggio.

The next day we committed to this route. The day dawned crystal clear and after a couple of hours we were feeling fried by the sun. Despite frequent baths of sun screen, our noses had been hit hard by the last few days. Having no triangular nose patches on our glasses, we fashioned two out of duct tape. We continued as a comical pair of rare silver beaked birds.

After a difficult downclimb down a couloir and a long traverse we could see the town of Chiarregio. A tricky, endless descent followed as we carved turns down sections of corn snow and traversed around numerous short cliff bands. Finally we stashed the skis on our packs and made the exhausting final sections through knee deep slush alternating with fields of mud.

Chiarregio is a small rural resort town that was feeling none of the effects of the nearby Swiss three day weekend. We were worried that we wouldn't be able to find a room, but when we got there the place was practically deserted. Neither Frank or I spoke any Italian, and our hope was that our Spanish would get us by. Surprisingly, this worked quite well as Frank secured us a room. The innkeeper was a mountaineer himself, and muttered something about a mountain rescue he had recently been involved with. We gathered that someone had been killed in a spring thaw avalanche on the difficult Mt. Disgrazia. When he saw our skis, he laughed long and hard. Apparently he had never seen skinny skis with 3-pin bindings, and didn't believe we had actually skied over the border from Switzerland on these flimsy sticks.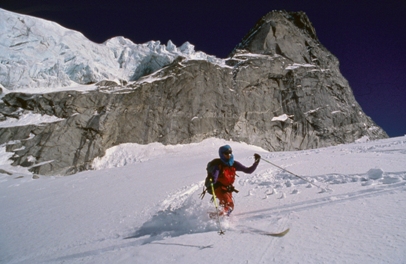 Frank skiing below a hanging glacier.

Shortly we were guzzling beer in the afternoon sun while our socks and boots dried. One problem with leather boots is that after several days of slush, they become impregnated with water and one suffers from terminal trench foot.

In the morning it's back to the wilderness into the Bergell Massif. This range is quite different from the Bernina. Although it does not boast a 4000m peak, the rock is much better being perfect granite. In fact later in the summer the place is quite a rock climbing mecca with Piz Badille being the main magnet. After the usual 1000m of altitude gain we cross a pass back into Switzerland and descend to the Swiss Hut, Campo del Forno.

Although none of the Swiss huts have been shabby this one is spectacular. Not only does it boast a great view of the granite pinnacles at the head of the cirque, but it sports a rack full of Birkenstock sandals as a welcome change from wet boots. Pulling back a cabinet at dinner we discover unlocked a TV set, VCR and movie as well as a slide projector, which is odd since there is no electric power. Apparently not so in the summer.
Leaving the Forno Hut

By now Frank and I are fed up with carrying our massive packs, loaded down with crampons, ropes and other junk that although necessary is hardly ever used. We elect to do a day trip from this hut. Although it may mean we can't complete the traverse all the way to Piz Badille, according to the hut keeper the huts further east were not open yet. We were not planning on this, and don't have enough food and fuel for the rest of the way.

Our objective the next day is peak bagging and skiing. First we ski up the mellowest peak in the area, Mt. Sissone. The weather has remained perfect and we can see our entire traverse route starting from Piz Palu, as well as the highest mountain in Switzerland, Monte Rosa some 60 miles away. Nearby was the imposing pinnacle of Mt. Disgrazia. Then it's off with the skins for a 600m descent down perfect corn snow, and back up again to the top of Cima di Rosso. The North Face of this peak faces the hut and has been skied, but it looked too hairy for us. Instead we came back down the south side, which involved a short hop off a cornice into a steep short chute. As we descended back to the hut we were soon wallowing in the deep slush. The best skiing was consistently in a narrow window from about 11AM to 1PM and it was already after 4. But we weren't complaining, having skied 1200m that day in one of the most beautiful settings imaginable.

The next day we grudgingly re-shouldered our loads and continued the traverse. The Forno Valley and Hut was one of our favorite places we visited and hard to leave. But we continued eastward over the Passo dal Cantun. We were in the magic window already, and Frank was eager to descend. But I forced him to climb another peak, Cima di Castello. Although still clear, the weather had turned hazier and we couldn't see Monte Rosa anymore. We screamed down 1000m to the closed Albigna Hut in the remaining minutes of the window.

A closed hut is not a locked hut, it just means you can't get any food there. Inside were a couple of Swiss Army Officers playing cards. They were friendly enough, giving us some of their food and wine, but seemed bored by it all and they didn't have much interest in going outside. Their job was to keep people out of a certain small valley used for shelling practice, and once they checked this they had little interest in exploration or skiing. They didn't seem to fit my stereotype of a Swiss citizen. I guess even in Switzerland there are those who dislike mountains and dream of being on a beach.

At this point one pass remained to complete the full traverse past Piz Badile. This pass was rumored to be the hardest of all, possibly requiring a rappel. But we were out of food and time, so it was time to stop. We simply took a coin-operated(!) cable car down from the hut and then a bus back to St. Moritz. What a wonderful adventure it had been with a great friend!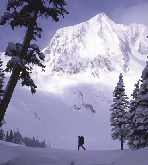 Frank Robert in Colorado in 1991
Copyright © 1991 by George I. Bell
Postscript: On November 10th 1991, (eighteen months after this trip) Frank Robert was killed in a freak early season avalanche near Courcheval, France. I never could write about Frank's death; this is a story about his life. His enthusiasm and love of the outdoors will always be remembered by his many friends.

Trip Report Index ...