La Plata's Ellingwood Ridge, "It's like eating an Elephant…"
By Warren Teissier (warra@comcast.net)
Photos by George Bell (gibell@comcast.net)
Written July 2002; Climb date 7/6/2002

[Click on any image for the full size version]
About three quarters of the two mile long Ellingwood ridge, taken from the standard route.
This image was created by splicing 4 standard images together.
Copyright © 2002 by George I. Bell
Flipping through the summit register of La Plata Peak, I find the entries of John "Homie" Prater and Lori. They had climbed the Ellingwood arête the day before. Their entries pretty much sum up the feelings George and I have about the route:
John's entry in the comment section: Ellingwood Ridge, AWESOME! Lori's entry in the comment section: Ellingwood Ridge, LONG!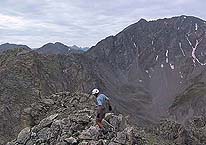 View of the summit from the start of the difficulties
Copyright © 2002 by George I. Bell

"I want to do some long traverse" George stated a couple of weeks before, while we discussed how to best spend our 4th of July weekend. George and I set out to climb La Plata via its most difficult route: the Ellingwood ridge. This rugged ridge runs roughly North to South, curving to the West until it joins the summit in one last dramatic 1300ft push to a rocky false summit. From there, another third of a mile deposits you at the summit. The majority of this 2 mile traverse occurs at 13,000 feet and can be done anywhere from sustained 3rd class to 5.4 with some rappels.

Word has it that in the summer of 1921 Albert Ellingwood was heading up the approach of the standard route on La Plata with a group of people. At some point, he separated from the group, telling them he would climb the peak via the ridge that now bears his name. They waited for him at the summit and when he did not show up they went down worried about his fate. Fourteen hours after they had separated a thoroughly satisfied albeit tired Ellingwood showed up at their campsite after completing the arête route.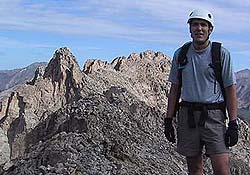 Looking back from about 1/3 of the way up
Copyright © 2002 by George I. Bell

I chanced into Homie and Laurie at the trailhead of La Plata (what are the odds?), they were descending after completing the ridge while I had gone there to scout the approach for our climb on the next day. Homie had hauled a pack full of rope and gear and never used it… after some discussion it became clear to me that we should go light even of this meant not staying on the ridge 100% of the time. That night George and I agreed on going fast and light and settled for a 5:00 am start.

We started up the trail at 5:30 am after some logistics miscalculation. The trail contours East for two or three miles and crosses 4 creeks. We followed the last one up the mountain. We emerged from tree line at 11,200ft, exactly 1000ft above the trailhead. We were faced with 1,500ft of lose dirt and talus, large, unstable, talus. This was by far, the worst part of the climb.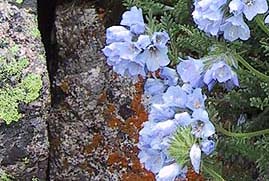 Sky Pilots on the Ellingwood Ridge
Copyright © 2002 by George I. Bell

We worked our way towards some rock bands and wound up 3rd classing our way up them in order to avoid the talus nightmare. At one point, George dislodged a football size rock as I worked my way below him. I heard the rock come lose followed by his desperate call for me to move out of the way… Luckily, I picked the correct side to move to and the rock bounced past me and to the bottom of the slope… From then on we started switch backing up the slope, I zigged when George zagged to minimize the amount of time I was directly under him. Two hours after we started, we were above the talus field and on a broad grassy shoulder where 5 mountain goats and a Ptarmigan went about their business. The mountain flower patches where nothing short of amazing and George let loose the artist in him.

For the first time we were able to see the complete ridge, all two miles worth of it. The sight is daunting especially when you consider the 1300 ft climb at its end. "It's like eating an Elephant" George said, "if you think about it as a whole it seems impossible, you need to take it a bite at a time…"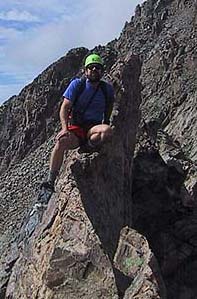 A true knife-edge section
(also easily avoidable)
Copyright © 2002 by Warren Teissier

Our objective was to stay on the ridge as long as we could. We achieved this for the most part with the following few exceptions:
All along the ridge, there are sections where it is peppered by small gendarmes (5-10ft tall), most made of crumbly rock, looking more like giant cairns. Climbing these seemed dumb and inefficient.
An interesting feature of the ridge is that the North face of the pinnacles is less steep than the South side. This may force one to rappel down if an easy down climb is not found. Because of this, we bypassed, two large towers in the first half of the ridge (one of which, contained so much lose rock that we probably would not have climbed it even with a rope).
Finally, we bypassed a tower that sported a couple of nice cracks up a slab. We discussed soloing this beautiful 5.easy obstacle, but two overhanging blocks above it put an easy top out in question. Additionally, we were not sure the pinnacle could be down climbed. Remembering Roach's mantra we determined that "This is not a good rock to be on top of without a rope" and we bypassed it on the left. This was the only spot where we thought a rope was truly needed. Mind you, it's a long way to bring a rope and harnesses for a single 70ft pitch…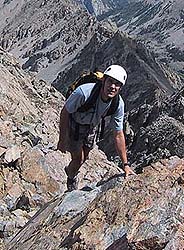 Just below the 14,000' false summit
Copyright © 2002 by George I. Bell

All in all, I would say we stayed on the ridge some 85% of the time and climbed a good amount of 4th class and some short easy bursts of 5.easy particularly on the descents. A couple of times we found that the easier down climbs were on the West side via exposed but cool ramps. Gerry Roach mentions you will spend very little time on the ridge if you want to keep it a 3rd class…. This is perhaps a little exaggerated, although I can see one spending a huge amount of time route finding and backtracking if you try to stay on the ridge and keep the difficulty at that level.

We finally took a breather at the low point of the ridge where it curves just before the last 1,300+ ft climb to the top. As we drank and put on sunscreen we looked up at a broad talus slope leading to the top. Memories of the first talus field of the day were still fresh on our minds and we hoped for an easy escape from the rollin' talus hell. We stuck to the ridge, having to chimney up an awkward slot and discovered to our relief, that the ridge itself was a great bypass of the talus field. This was one of the best sections of the climb. All along, we had seen people on the summit and expected a large crowd at the top. Some of us, even expected them to cheer us on and offer us pina coladas at the top, but this may have been hypoxya induced wishful thinking…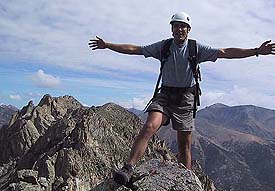 Warren celebrates near success
Copyright © 2002 by George I. Bell

Six hours after leaving the trailhead we reached the deserted summit and proceeded to sign our names in the register. A few minutes later, we were joined by a couple of waves of people reaching the summit via the regular route. Clouds were gathering and we decided to get started with the knee jarring descent via the regular route. The trail has been greatly improved according to George and we only had to do the talus dance for some 200 yards…

We reached our car 8 hours after we started. During the descent we had wonderful views of the arête. We had come a long way: 10 miles of hiking, 5,200 vertical ft cumulative, 4 hours of 3rd and 4th class scrambling between 12,500 and 14,300ft. Hard to believe we had climbed that whole thing…

We had in fact eaten the Elephant. What a great day!

Trip Report Index ...