Copyright © 2001 by George I. Bell
Lizard Head from the south.
The standard route lies just
behind the left skyline.

Lizard Head

By George Bell (gibell@comcast.net)
Written 1/16/2002; Climb date 9/9/2001

[Click on any image for the full size version]

View Ellingwood's account of the first ascent

Lizard Head ... is the most difficult of Colorado summits to reach. In fact the rottenness of its 400' tower makes safety too much a matter of luck for comfort. Returning visitors have formed the opinion that the peak has become noticeably rottener and more dangerous. Our advice ... when you reach the base, take [a] picture and go home.

Robert Ormes in the Guide to the Colorado Mountains, Seventh Edition, 1979
The above passage was the first thing I read about Lizard Head, in 1982, and it did not make me want to run out and climb it. However, recently an unusual planetary alignment and the recommendation of my astrologer convinced me to go for it ...
NOT! In reality the trip was borne out of more mundane needs. This summer I had done some Flatiron scrambles with Gerry and Jennifer Roach, and they mentioned that Jennifer was trying to finish off the 13ers by the end of the summer, having only ten or so to go. One of those remaining was Lizard Head, a formidable barrier for Jennifer. Jennifer is a prolific peak-bagger, but knew that the technical challenges of the peak would be difficult for her. Gerry had climbed Lizard Head a few years ago and knew well what she was getting into. He didn't have any interest in repeating the climb (not a good sign, perhaps). Gerry recommended she Jumar the two hard pitches, and had her practicing with Jumars.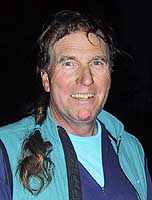 Gerry Roach, 6AM on the approach
Copyright © 2001 by
George I. Bell

Since they were both between jobs, the Roach's were free to climb full time. They had already attempted the peak in August but were thwarted by bad weather. One definitely does not want to be near the summit of Lizard Head in a lightning storm. In September they figured to simply hang out in southwest Colorado until Lizard Head was climbed. Since I was constrained by weekends, it looked like they would probably find someone else to lead Jennifer up the peak. But their next attempt, the day after Labor Day, with Charlie Winger, ended after the first pitch due to slowness and bad weather approaching.

When Gerry and Jennifer called me to ask me to drive down the next weekend, I accepted without hesitation. Gerry's view was that the climb would be safest with a team of three. He didn't want Jennifer to have to clean pieces while jumaring, and a team of four would knock too many rocks on each other. Gerry himself didn't seem too keen on climbing Lizard Head for the second time, and asked if another of the Minions would be interested in being the third for the climb. By this he meant "Satan's Minions Scrambling Club", a group of Flatiron scramblers who believe in getting up early and knocking off a few easy climbs before work. At the last minute, John "Homie" Prater agreed to accompany me on a quick trip to Lizard Head.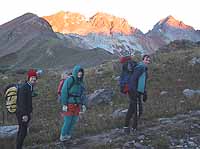 John, Jennifer and Gerry
Mt. Wilson and Gladstone behind
Copyright © 2001 by
George I. Bell

We started driving on Saturday at noon. An early storm had dumped snow in the high country around Denver (thus ending Homie's attempt at a Pfiffner Traverse), but Gerry and Jennifer were already in Telluride and assured us the snow had not hit there, and the weather Sunday was forecast to be perfect. We arrived at the Cross Mountain Trailhead just about dusk, and met with Gerry and Jennifer in their cozy camper. Jennifer was psyched that we had made it and offered us some canned beef stew and tea, which tasted great in the rapidly dropping temperatures.

It was clear and cold that night (for September) and I didn't get much sleep, out in the open in front of my car. When John and I awoke at 4:30, is was 23 degrees and my water bottle was half frozen. At 5:30 it was still dark as we shouldered our packs and trudged up the trail toward the shadowy form of Lizard Head.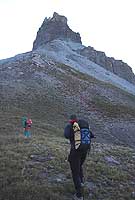 Approaching Lizard Head
(click to see route)
Copyright © 2001 by
George I. Bell

It was a gorgeous clear morning as the sun rose. As we got above timberline we got a great view of the Wilson Group to our West, and of course the hulking black form of Lizard Head. It reminded me of Castleton Tower the way it sits high on a talus cone. All too soon we had trudged up the cone and were shivering at the base at around 7:30. Man was it cold! It is too bad the route faces SW, as it gets no morning sun. There was wind coming out of the north, but fortunately we were somewhat protected on this side of the tower.

Jennifer had prepared well for this climb, and a lot of this meant keeping us psyched - she feared we would wimp out! As I pondered the first lead I found myself with two hand warmers, drinking hot tea. I wasn't too concerned as the weather was obviously stellar, and eventually we would be in the sun. The rock looked better than expected, and Gerry could offer beta on the first pitch at any level of detail desired.

After considerable organization and waiting around for warmth, I started out on the first pitch. This lead can be broken up into two 60' pitches, but I opted to combine these. The first 60' is scary because all the handholds appear loose, and the pro isn't trustworthy. At the 60' anchor I warmed my hands. The next 60' is a steeper crack, and appears more difficult than the lower section, but the rock and protection are quite good. A tricky 5.7 lieback deposits you right in a notch, and I was now in the sun.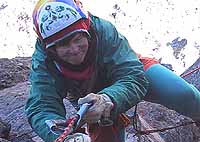 Jennifer jumaring the first pitch
Copyright © 2001 by
George I. Bell

I belayed John up and remarked that the rock on the upper part of the pitch was "as solid as Eldo". Just then John dislodged a mass of pebbles from the back of the crack. Gerry and Jennifer were wisely hanging out far from the landing zone. Perhaps it wasn't as solid as Eldo, but the rock was best just where the climbing was hardest. We fixed the second rope for Jennifer to jumar. She worked up slowly but steadily as Gerry hung onto the end of the rope to make it easier to jumar. At some point the generated rockfall made this too risky, however. John belayed Jennifer on the other rope, as a neophyte jumerer, she wanted the security of a toprope.

Jennifer was quite excited to make the notch, with half the hard pitches now behind her. The second pitch could be done completely unroped if it wasn't for the exposure. It's an easy romp up a standard loose scree gully, except that this scree gully dumps out over a 150 foot cliff. The first move out of the notch is quite exposed, and a foothold crumbled on me here. I just stepped back into the notch, but it is definitely the hardest section on the second pitch (and tricky going down).

The way I went, the second pitch ended in the middle of a scree field, even with our 60m ropes. Just above me was a large truck-sized boulder, and I was able to get some pro in it, although it wasn't clear how stable the whole area was. Jennifer and John tied in 20 feet apart and I quickly belayed them up.

The third pitch breaches a steep headwall, and it's not obvious which way to go. Gerry had shown us a photo of the start of this pitch, but I still wasn't sure of the way. There was an obvious crack, but it was overhanging at the start and looked offwidth up higher. Looked pretty tough for a route rated 5.7, but Gerry had already warned us that the crux on this pitch was more like 5.9 (or 5.7, A1).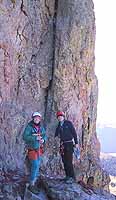 The Crux Pitch
Copyright © 2001 by
George I. Bell

I racked up and started up the pitch. It was immediately steep, but the rock again was quite good. I clipped an old pin and inched up under the overhang. There was a small icicle hanging under the overhang, giving it a distinctive alpine flavor. I placed the #3.5 Camalot and started cranking over the overhang. The best hold was a fist crack to the right, this section was very pumpy and I felt at the verge of coming off. However, this section is well protected (or easy to aid) using two large Camalots (we had a #3.5 and #4).

Above here the climbing got easier but entered a flared offwidth crack. It looked much easier than the section below, but there wasn't much pro available. The face to the right was very featured and looked climbable, I headed out here for 15' or so but detoured back to the wide crack at the top when the runout began scaring me. There wasn't any pro in the crack either, but I felt safer wedged in the flared slot. After passing a final chockstone, I reached a fixed anchor and looked up at another easy scree slope to the top. We were almost there!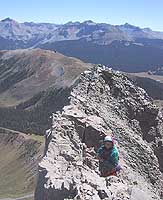 Looking SE from the
summit, note crack.
Copyright © 2001 by
George I. Bell
We fixed the second rope around a huge pinnacle for Jennifer, and waited for her to arrive. The day was still perfectly clear and we were quite comfortable although still dressed in quite a bit of polypro. Remarkably, there was another team climbing the first pitch behind us (Gerry had told us of this on the radio). Gerry had told us before that the climb was too dangerous for two teams of climbers. The top pitch is quite easy - except for the yawning drop on all sides, and I scrambled up unroped. The summit ridge is a real knife-edge, and on the other side drops vertically for hundreds of feet, maybe even a thousand. There is also a crack a few feet back from the edge which extends the length of the knife edge, making one the feel that the whole top is about to peel off.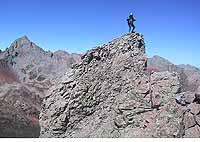 Jennifer on the summit,
looking NW.
Copyright © 2001 by
George I. Bell

When Jennifer arrived, we discussed the best strategy for getting her to the top. Eventually, John led up to the top, placing a few pieces, and then backed down the same way. This left some pro for Jennifer to clip in to as she led to the summit. Really the only way to fall on this pitch would be to slip and land on a pile of loose blocks that all started to slide off the edge. An unlikely series of events, but it could happen. I played the role of the roving photographer as I moved around snapping photos of everyone reaching the top.

I was the first to rap down the crux pitch, and I then belayed Jennifer by grabbing the end of the ropes as she rapped. I soon found out this was a dangerous position to be in, as volleys of rocks were inadvertently released by every rappeller. At this point we ran into the party behind us, a man and woman. They were quite happy to hide under an overhang while we finished rappelling the crux pitch. I was quite surprised later when the woman began to lead the crux pitch. I figured with her small hands the lead had to be 5.10, and she did pop off right at the start when a hold broke. But she was fine and cruised the crux, using small face holds rather than the crack. Ugh, was it really that easy?

The loose second pitch was problematic as it is so low angle you can't rappel. Jennifer and John down-lead it, which was a time consuming process. I then followed them down to the notch, taking out a few pieces of pro that John had left. Fortunately, the climb diagonals to the left, so the lower pitches are somewhat protected from rockfall generated by climbers high up.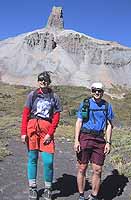 Jennifer and John,
happy to be done.
Copyright © 2001 by
George I. Bell

Down at the base I encountered Gerry, who had been enjoying the sun on a grassy ledge lower down. He congratulated us and remarked how nice it was to be on a climb where he did not have to do any work! The base of the climb was not a place for casual chitchat, however, with the volley of stones accompanying every rappeller. I was also concerned about rockfall from the other party high above us. Gerry had been studying this and advised us to stay less than 5' out from the base of the cliff, as all rockfall hit beyond that distance. But I did not want to stick around and test the theory, so we quickly packed up and raced down the talus cone to the security of flat grass.

Here we spent some time relaxing, eating, and re-packing. We were all very happy to have completed the climb quickly and without any major problems. Jennifer was especially psyched, for she had fewer than five thirteeners to go now, and with the last major obstacle out of the way, was certain to finish this year. I hadn't even completed all the fourteeners, and was really in no hurry to do this. But I could see what a huge accomplishment this would be, taking at least 10 years even for very driven peak baggers.

I was most amazed by the fact that this climb had been first done in 1920 by Albert Ellingwood and Barton Hoag using only a hemp rope and three soft iron pitons. This was a landmark achievement in 1920 on such a steep, loose tower. If I had to select one climb in Colorado that seemed most ahead of it's time, this would be it. Click here to view Albert Ellingwood's account of the first ascent.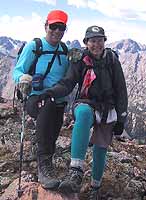 Gerry and Jennifer Roach
atop peak "N", Gore Range.
Copyright © 2001 by
George I. Bell

On the hike out Jennifer amazed us with more stories of mental stamina in her two attempts on the Hard Rock 100 mile race (she finished it once), and Gerry had an interesting tale of how he had been kicked out of the CMC, when he was a young and impressionable climber. Although he had felt ashamed about it at the time, looking back he now saw it as a positive influence on his climbing career as it had forced him to search out new partners and not rely on the club atmosphere so much. We all then drove down to eat in Ridgeway, with much talk of even more obscure and difficult summits in Colorado. Homie and I continued driving through the night and did not arrive home until nearly 2AM.

Two days later planes smashed into the World Trade Center and Pentagon, altering our world forever. Somehow a dangerous pile of rubble like Lizard Head seems friendly compared to a malevolent human out to get you. Two weeks later John and I joined Gerry and Jennifer on the climb of Jennifer's final thirteener, Peak "N" in the Gore Range. Jennifer became only the eighth (official) person to climb all the ranked thirteeners.

Trip Report Index ...