The next lead goes free at 5.9, and according to Bill's trip report it really is 5.9. My fall the first day is still on my mind, though, and I pull on a couple of my pieces to get up this pitch quickly. The Spaniards are making a slow time of the Great Roof, it is because Cesar is not leading!! I have no idea why the super-fast leader is not first, but it is instead their petite woman leading. This is her first lead of the route.
I have considerable time to set up an equalized anchor. Good thing, too because it consists of a pin and 2 spinner quarter inch bolts, plus a gigantic flake which is the only thing I'd call bomber. Steve comes up and we have to wait a half hour for the Spaniards to vacate the belay.
Steve begins to lead the Great Roof pitch, this is a long pitch and there is not as much fixed gear as I had expected. Steve is about 20' up hanging off a fixed stopper and reaching for a pin when the stopper pulls. He has left nothing in below and is in for a 40' factor 2 screamer past the belay.
It happens so fast I don't have much time to react, but foolishly I find myself trying to catch him with my non-belay hand as he goes by. He hooks a leg in one of the anchors, flips upside down and lands on the haul bag, held there tenuously by his foot. I grab him by the rack, but realize this is dumb as I can't hold him if his foot comes loose, and hunt around for one of his daisy chains to clip him in. Soon he is stabilized, and although he has wrenched his knee he is otherwise uninjured. Another long fall ends well.

Soon Steve feels up to leading once more, this time much more conservatively, leaving lots of gear in. He is really running out of biners by the end of the pitch but by cannibalizing the rack he makes it. What a spectacular pitch!! I jug up the rope and then re-lead the traverse while Steve belays. The belay has got to be one of the most exposed on the climb.

Above the famous Pancake Flake pitch looms, mere 10a with 1500 feet of exposure below. With Steve's encouragement I manage to free the first 30' or so, but soon am in my aiders. The top of this pitch is very thin and is the first aid I have encountered which is a little tricky. Some exciting free moves end at a nice ledge and bolts. The Spanish have by now outpaced us and are already at the Glowering Spot. The Japanese are rumored to be just ahead of them.

Steve leads the next pitch, a horrible flared crack. When Bill did the Nose, it took the Loobster 2 hours to lead this in the dark and I can believe it. Steve takes less time in the light and eventually he runs out the upper part of the pitch past the tiers of Camp 5. It is already 3:30PM; we can likely get to Camp 6 but fear that the Spaniards and Japanese will be filling it. We decide the smart thing to do is to move on, but if Camp 6 is full we'll rap back down to Camp 5, leaving our ropes fixed.

The Japanese have been looming above us the whole day, psychologically even if we still can't see them. They started 2 days before us yet they are only just ahead. Passing another party appears very complicated, they may prevent us from getting off this climb tomorrow. Steve takes the next two leads to speed things up, also I am experiencing a lack of motivation. Below us we can hear a party of Norwegians who came from the Triple Direct, plus the mixed party of 3 we passed at Sickle Ledge. These crowds are really bumming me out. It seems wherever we spend the night it will be crowded.

Steve blasts up the Glowering spot pitch, and then leads another short aid pitch up an awkward flared slot. Here he speaks with the Spanish, who tell us Camp 6 is full. So we rap back down to Camp 5. Steve takes the uppermost spot and myself the best ledge of all, the one farthest west.

As we are eating dinner (my wife's zucchini bread) the Norwegian leader arrives, asking us if there is an anchor for their portaledge. There are 3 bolts just west of my ledge but I don't want them there as they will get all tangled in my ledge. Eventually they begin setting up their ledge hanging from a crack just east of me.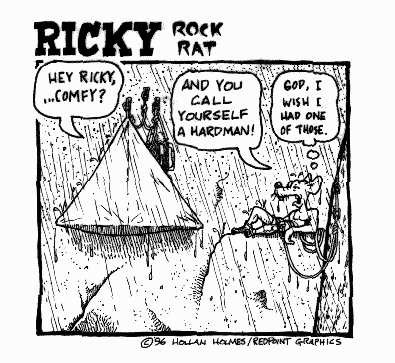 Steve jugs back up to his site after dinner and I settle down for a long night. The party of 3 soon shows up and they are none too happy. Because of ourselves and the Spaniards blocking the way they have spent their first night on Dolt Tower and their second only on El Cap Tower. Now they are stuck with the worst ledge on Camp 5. Repeatedly they ask me if there is room for another where I am. I reply that this ledge is 1 1/2 ensolite pads wide. Really there is no way for 2 people to lie down here, although it is a much better ledge than the one they have.
I feel badly for these guys but I really can't help them out. The only thing that would really help them would be to rotate sleeping on this ledge but this will involve coordinated rapping off and jugging up, and all our gear is strewn about this ledge (clipped in, of course, but still strewn). So despite my great ledge I have trouble sleeping.
After the pathetic night previously endured, I was pleased to have a narrow, sloping ledge that I could almost stretch out on. My feet hung off the edge but that was OK. I was just going off to sleep when another party of 3 arrived asking if there was room in the inn. Ugh! You've gotta be kidding. There are 4 ledges spread over 60 feet and none of them is large enough for more than a single person to lie down on. The New Zealand-OZ-New Mexico trio settled down to a grumpy night on the lower tiers. They blamed their woes on "Those damn Spaniards" who had jumped on the route ahead of them. Our concern for tomorrow isn't the Spaniards, but getting around the Japanese so that we can get off the route tomorrow.

Yawn. Whatta full day we had... The Great Roof, Pancake Flake, Glowering Spot... yawn... lotta history there... Zzzzzzzz.
Sept 20th. Steve and I are up at 4AM. The Spaniards promised us the night before that if we got to Camp 6 by 7AM we could jug their fixed line and get past the Japanese. We feel that we must get past the Japanese to make it off today.

We quickly jug the lines to our high point. One more short pitch to Camp 6 remains, and I agree to lead it. It is a bizarre wandering pitch which goes free at only 5.8. First you go down and right about 30', then up and back left. When Bill led this he says he left only one piece of pro to make it easy to jumar but I wasn't able to duplicate this. I left in about 4 pieces which made it difficult for Steve to follow on jumars.

As I arrived at Camp 6 all I saw was the 3 Spaniards. "Donde esta Japan??" I asked. Turns out the Japanese had climbed all last night to get off, topping out at 4AM!! So our early start was not needed. But it did put the pressure off us from the lower parties, I'm sure as soon as they discovered how good my ledge was they would be cursing me!!

Camp 6 I think smells a lot better since the Nose clean up. They removed most of the garbage from the crack, and I was angry to see 5 new water bottles with Japanese writing stuffed into it. We were also the only party we saw with a poop tube, it seems there is no way to keep these popular climbs from getting trashed.

The pitch off Camp 6 is very long, and Steve did not need to rush it. I realized that this was the famed "Houdini" pitch, one of the two 5.13 cruxes on Lynn Hill's free ascent. We marveled at how she was able to free climb this overhanging dihedral.

The end of the pitch is a total hanging belay. We had done quite well keeping the ropes from getting snarled. The extra time taken to butterfly each rope and hang it off a runner always seemed well spent. The next pitch follows a perfect #1 Camalot crack around a corner, where it turns into a perfect 5.8 hand crack. But above here was a horrible sight - the death block was still there!!

Quang-Tuan Luong had thought that the flake was cleaned from the wall during the recent Nose cleanup, but clearly he was wrong. The next belay sits literally right under the hanging block, about the size of a piano and leaning off an old set of bleached slings. I resigned myself to my fate and took up residence under the guillotine.

Steve jugged up and then tried to figure out how to get past the block without weighting it. The geometry is such that if it goes it will fall right through the belay, with no hope for either of us. With Steve aiding the crack above the block, it was obvious the major hazard was him falling on the thing. This caused him much concern and made him climb very conservatively, an attitude I supported 200% considering my position. About 40' up there is another smaller loose block which requires further care.

Ooohhhhhh, the death block. What a rude surprise. I felt sick, nauseated, aiding so delicately around the block. Once wedged into a large flared groove, it has slipped out several feet so that it now covers the original belay bolts. It is held in place by many old slings attached to a bolt and pro in the flared groove. The block blew my composure for the rest of the pitch. I hope it falls away some icy January day when no one is around.

Steve's belay ended at a horrible flaring groove. A paradise compared with my previous station but still I was anxious to continue upward as soon as possible. The exposure here was rather awesome and Steve spent some time taking photos down at me. Soon I was off on the second to the last pitch - a fixed traverse followed by some free moves and then a short, steep crack. Then I was staring up at the last pitch - Harding's famous bolt ladder.

It was hard for us to believe we were on the last pitch of the Nose, with all the uncertainty of the crowds and getting off in time, as well as the falls experienced by both of us. I had already agreed to let Steve lead this pitch; as he had taken the harder and scarier leads of the climb I felt he deserved it.

The last pitch is very easy, with the new 3/8" bolts on it Steve didn't even bother to leave draws on most of them. Despite what everyone says I actually heard him say off belay, and then I lowered out the sack. Then I followed the pitch on belay, hopping my aiders from bolt to bolt.

I struggled with the pig, stuck under a roof, and then we did one more short pitch to a tree where we could unrope and pack up. We felt tremendous relief, but we still needed to hurry as it was actually past 5PM and would be getting dark before too long.

The top! It's wonderful to unrope and walk around after 4 days on the rock. To set things down and not have to clip them in to keep them from rolling away. Still, I feel a twinge of sadness that its all over... I was just getting accustomed to the vertical world.

We pack up the monster pig, which was incredibly bulky and heavy even with no water, and struggled to the actual summit of El Cap in the twilight. We hoped to take the Falls trail all the way down tonight but we were too tired and crashed just before the junction where it starts down.

Sept 21st. Steve is supposed to pick up his wife at the Oakland Airport today at 4PM so there's no time to waste. We pack up and walk down the Falls trail, which is technically closed due to a recent rockfall. But we're hoping to claim ignorance if caught. We reach the Valley bottom by 9AM but still have to hitchhike back to the car. I sort the rack while Steve hitchhikes, then we down a huge breakfast at the cafeteria, shower and then to El Cap meadows to pick up our first two fixed lines, which we left hanging off the first anchor so they wouldn't be stolen.

Another mob scene is apparent in the Stovelegs, however there are no fixed lines in place now except our own. We race out of the Valley by 1PM, certain not to make it to Oakland on time. We spent a whole week in Yosemite Valley and completed only one climb. Yes, but what a climb!