Mount Huntington's
Easiest Route

By George Bell (gibell@comcast.net)
Published in Summit Magazine
March-April 1986, Vol 32, #2
[Click on any image for the full size version ~40KB]

Huntington from the west, with our route marked.
Black diamonds indicate camps.
Copyright © 1985 by George I. Bell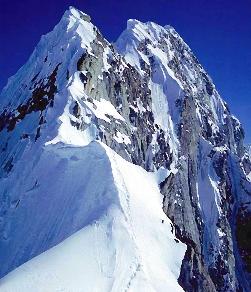 Head on view of the French Ridge
from the start of the difficulties.
Copyright © 1985 by George I. Bell.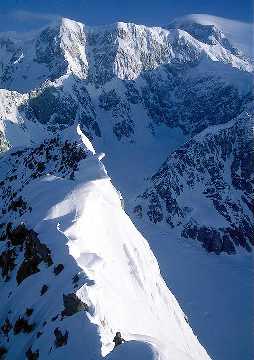 Denali and lenticular cloud.
Chris Brislawn visible at the very bottom.
Copyright © 1985 by George I. Bell.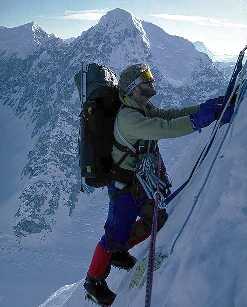 Chris Brislawn starting the crux lead
(or so we thought). Note old fixed lines.
Copyright © 1985 by George I. Bell.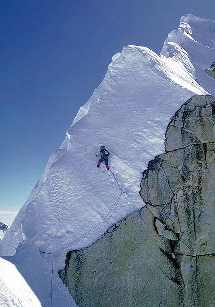 60 Degree ice covered by two feet of snow!
Copyright © 1985 by George I. Bell.

Chris [Brislawn] and I enter the Alaska Range like all other lazy climbers - a brief and scenic flight by glacier plane. Only hours after our arrival in Talkeetna, we stuff the small four-seat Cessna with gear and food for three weeks, two climbers and a pilot. The first half of the flight goes smoothly as Chris and I gawk at the approaching mountains. At this point, Tony [Martin], our pilot, shouts over the engine noise "Where'd you guys say you wanted to be dropped off, Kahiltna?" Somehow this simple point had escaped discussion on the ground. "No!" shouts back Chris, "Next valley over, Tokasitna Glacier." Thinking this is a standard landing site we return to our zoom lenses, but minutes later are interrupted again "Any idea what altitude that's at?" Then it dawns on us. We are at 7000 ft flying into a range nearly three times that high and none of us know exactly where we are going. A hasty shouting discussion follows as McKinley grows larger and larger directly ahead. All our maps are buried beside me in our gigantic pile of gear.

Before long we spot our objective in front of McKinley, the small but spectacular Mt. Huntington, and with that are able to point out the landing site. An impressive and horrifying series of corniced ridges and delicate flutings sweep past as we circle the peak well below it's summit. Tony expertly pulls the plane down into the narrow gorge and executes a perfect landing on skis. We are impressed. Thinking that such steel confidence would be an asset to the end of any rope, we ask Tony if he has ever done any climbing. "Are you kidding!" he replies, "That's too dangerous!"

It seems a strange way to enter an alpine environment, yet Huntington has always been approached in this way. Twenty one years earlier [1964], a team of French led by Lionel Terray had been flown in by the famous bush pilot Don Sheldon. After three weeks of sieging, they completed the first ascent of Huntington by the Northwest (or French) Ridge, during a period of cold and unsettled weather. Since then Huntington has been climbed by more than a dozen alternative routes, all of extreme difficulty. The French Ridge itself received it's second ascent only in 1976, and Chris and I figured it would be challenge enough. By keeping our pack weights below 45 lbs, and with modern ice gear, the plan is to make an alpine ascent in around 4 days.

We land in perfect weather, and with some hesitation decide to begin the climb at once. Before we have been 2 days in Alaska, we are camped at the base of the ridge and staring at the crux of the route.

By Alaskan standards the French Ridge is rather small. From the start of the difficulties, it rises 2500 ft in one mile by a series of four steps. The adjoining faces are much steeper and in many places it is a true knifedge. This makes the head on view particularly spectacular, it is hard to believe this is the easiest route to Huntington's summit. Backing down the ridge would clearly be time consuming due to the shortage of rappel anchors. This gives the route a serious tone of commitment and so we have camped here to see how the weather fares.

4AM, May 25th. Not only is the sky clear, but the air is completely still. Our crampons now bite into yesterday's slushy snow. In addition to a large and heavy pack, the leader is awarded a jangling assortment of ice screws, snow flukes, and pickets. We skirt a rock cliff into a gully of 70 degree ice. An easy pitch proves exciting when a cornice breaks off 2 feet from my axe and falls freely for several seconds. Most interesting is the steep ice covered by two feet of snow. By afternoon we are at the base of the second step, but the snow is so sloppy we camp here.

For two more days the mild weather continues as we work our way up the ridge, one step at a time. The views become more and more spectacular. On one side rise the snow peaks Hunter and Foraker while on the other we look down on the Ruth Amphitheater, and the ragged spires of the Rooster Comb and Moose's Tooth. Always directly behind us rises the massive bulk of McKinley, six miles away and two miles higher. Every few hours the silence is broken as a giant avalanche roars down into one of the gorges around us.

Our progress is slow but the weather is holding. One long day we figure will put us on top. We are above the third step, only 800 feet below the summit, and have supposedly completed the most difficult section. It is light enough to climb through the night, so we change tactics and leave at 10 PM.

At this point everything begins to go wrong. High clouds drift lazily in from the southwest and in two hours it is snowing. Even worse, the level section ahead (Terray called it the lacework) is in horrible shape. Every hundred yards we find a short, nearly vertical wall, which, to our continuing amazement is constructed entirely of snow. Leading has become a nightmare trying to punch footholds that will support body weight. A slip here would result in an exciting flight out over the west face, which we have had altogether too much of on the flight in. I have given up the lead altogether. Chris finally gives in when a cornice beside him breaks off, triggering an avalanche down the north face.

Our clever little climb is rapidly turning into a struggle for survival. The storm is intensifying, going up the ridge is too dangerous and going down complicated and time consuming. When I arrive at the belay stance Chris points down the west face "We go down here." At first this seems a sick joke, as the west face is the steepest side of the mountain, consisting mostly of sheer rock. Then I recall that we have brought with us a number of pitons for our planned descent of the Harvard route, also on the west face. In addition, directly below us a snowfield reaches halfway up the face. After some argument, I agree to the mad plan. Although we are robbed of the summit, it will at least be a dramatic exit.

Eleven [double rope] rappels later we touch down on the snowfield. If is a great relief as the final rope pull falls free. Our greatest worry had been a rope getting hung up. In celebration I manage to drop one of our ropes, but it does not matter at this point. Several hours of front pointing down the snowfield and we reach the safety of the glacier. To our surprise, awaiting us is the lost rope and an igloo left by another group.

During the following days we have considerable time to reflect on the climb, and the decisions we made. We soon move back to the landing site, but the storm that began on the climb continues endlessly. Although we plan other climbing and exploration the storm days continue to tick off. Day 7 our liquor runs out. Day 11 we exhaust our supply of paperbacks. Day 13 is our due out date and we find only two days of food left, stretchable to four, five, ...? Another party of two camped nearby is already 5 days overdue, and eyes are large food supply eagerly. Before a 24 hour watch is needed, we decide to pool our remaining supplies and stick this thing out together.

Fortunately the next day is cloudless. marking the end of the storm and our two week imprisonment by it. As we circle Huntington once again, our climb seems more like a dream. The French Ridge floats below us just as before, all trace of our passage having been wiped clean. Gladly, we turn our backs and look forward to large quantities of beer and pizza in Talkeetna.

Many months later my mind was often to return to Mt. Huntington. It had been an incredible climb, lacking only in the summit. For most this meant that it lacked everything, but this did not alter my own feelings about the climb. We had spent three days of perfect weather on one of the most spectacular and scenic ridges in the area. And this was something even Lionel Terry and his first ascent team had not experienced in their three week epic.

Postscript: This climb had a huge impact on me as a developing climber, more than any other single climb. I was totally unprepared psychologically, and to some extent technically for the seriousness of an Alaskan route. We took way too much weight, including a 7lb tent, this is why we were moving so slow up the ridge. I have never been as scared in my life on a climb as I was when that storm blew in. Rapping the west face was a brilliant move on Chris's part, it probably saved our lives.

Obscure facts: Mt. Huntington was named after Archer Milton Huntington, former President of the American Geographical Society, sponsor of an early expedition up the Northwest branch of the Ruth Glacier. Unlike McKinley, Foraker, and Hunter, the mountain is not visible from "the plains" (i.e. Talkeetna) and for this reason apparently has no native name (like Denali, Sultana, and Begguya).

Trip Report Index ...